Develop faster with PHP frameworks
What are PHP frameworks and what are they?
A PHP framework is a collection of pre-built functions or code libraries that can significantly speed up the creation of a PHP web application. Frameworks have functions for authentication, templating, database management, and file processing.
PHP frameworks have become increasingly popular in recent years, and many developers choose to use one rather than write their own code from scratch. PHP frameworks allow you to quickly get started with a new project and also help standardize the architecture of your application.
There are a number of popular PHP frameworks, each with their own advantages and disadvantages. We will introduce you to some of them here.
Table of contents
Why use a PHP framework?
The main reason for using a PHP framework is probably that you can save a lot of time in development and it helps to standardize the architecture of your web application. Many of the frameworks already include well thought-out and secure functions, e.g. for user authentication or database management. These functions do not have to be developed from scratch, but can be used practically out of the box. Often, different frameworks can be combined with each other. This is often done in the area of templating. For example, in the PHP framework Laravel and the template engine twig.
We are built framework?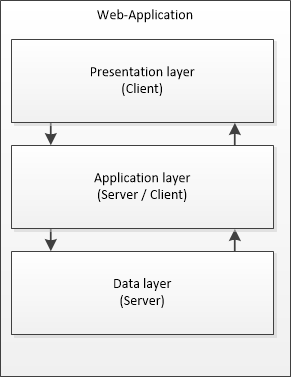 Most frameworks are based on a three-layer architecture / MVC architecture
1. The presentation layer / display layer
This layer is responsible for visualizing the output data of the application as well as the design. Modern frameworks strictly separate the PHP code from the design, which makes it possible to quickly respond to new UI/UX requirements without having to touch the actual source code of an application.
2. The functional layer / application layer
This layer is where the actual logic of an application is created. It is practically the brain of your application. For example, data that is collected via the presentation layer is checked here, modified or forwarded to a layer up or down.
3. The Data layer
In the Data layer, information is stored permanently. Usually in a database or on the hard disk as a file. Data stored in this way is available to the application layer at any time.
For some frameworks, certain layers can be replaced by other specific frameworks. For the data layer, database abstraction layers are often used. For the presentation layer, external template engines are used.
What is there to consider when choosing a PHP framework?
There are many PHP frameworks in use today. Which one you finally choose often depends on which one you discovered first. However, other aspects should play a much more important role.
What should be implemented?
Is the application more design-heavy or more database-heavy?
Does my development environment support (IDE) the framework?
Is the framework built with the future in mind and is there detailed documentation?
What is the distribution of the framework?
Are updates released on a regular basis?
What are the most popular PHP frameworks 2023?
The most well-known and popular PHP frameworks include Laravel, Yii, CakePHP, Symfony, as well as CodeIgniter.
You can find a overview of more PHP frameworks in our marketplace for Scripts
.
Other PHP frameworks 2023
Here you can find more interesting frameworks
News about PHP development and frameworks 2023