The history of php-resource.de
Gude (as we Hessians say)
nice that you are interested in us
We are a team of professional PHP developers, some of whom have been working in PHP development for more than 25 years.
PHP-resource.de is visited month after month by thousands of users worldwide and is probably one of the most popular PHP development sites in the German-speaking world.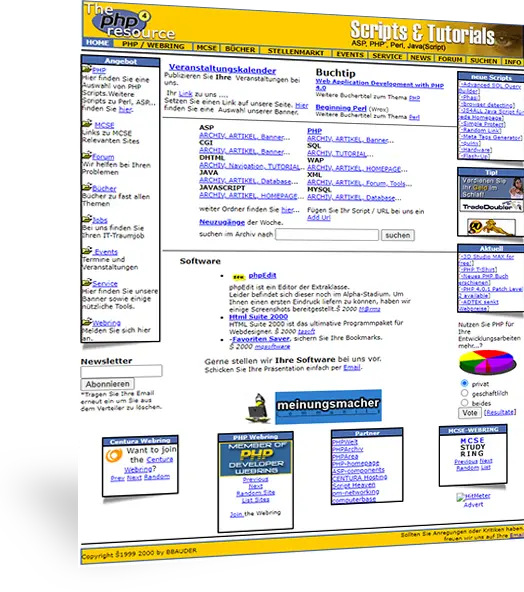 PHP-resource.de goes online as PHP script portal
On this page we would like to introduce ourselves briefly to you.
In 1986 PHP-resource.de was started as a hobby or learning project by Bernhard Bauder. Initially PHP-resource.de was a
PHP script portal
, where PHP developers could offer their scripts for free. Very fast we reached high access numbers and extended the portal with a forum and around the range
PHP Tutorials
as well as the news range.
The screenshot shows a version from the year 2000. Unfortunately we could not find any screenshots from the year 1996.
In the days of Mosaic, Netscape, Microsoft Internet Explorer, Opera and Mozilla Firefox, HTML pages had to be adapted for each browser. Today the UI designers have it much easier ;)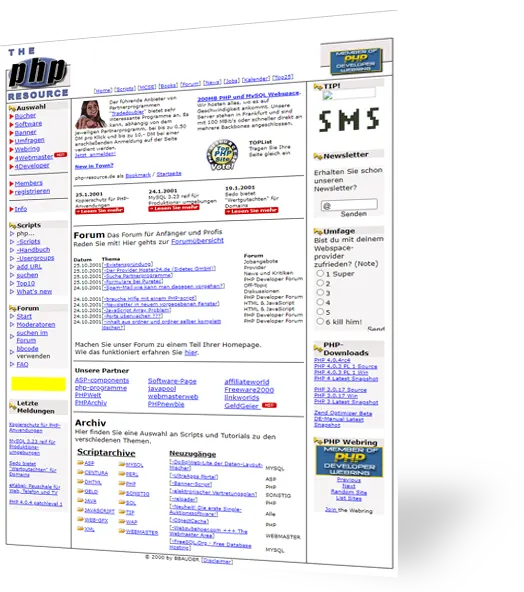 Color out, more content in
The page continues to evolve
The offer on our portal has expanded slightly. It used to be a hype to join top sites and webrings. We were at the forefront of the PHP Developer Webring.
The design was modernized and kept in a light gray. We were just far ahead in the past :) . Pictures had to be kept very small because of the slow internet connection. Long loading times were not cool back then. Animated GIF's were a must have.
Around 2000 there were many sites that dealt with PHP. Unfortunately, many of the sites were abandoned. Actually a pity, because people knew each other, even internationally, and exchanged information regularly. Today, unfortunately, this is no longer the case.
Best Friend PHP - The book from PHP-Resource.de users
In 2001 the PHP reference book "best friend PHP" was published by Data Becker Verlag. The book was written by Bernhard Bauder and users of our portal.
Originally, the book was planned as a compendium. At that time we could not accept offers from international publishers. Let's see what the future brings :)
PHP-resource.de goes international
English language makes its entrance
In the beginning the page was created with PHP and HTML. Without any helpers at all. Thanks to modern PHP frameworks and template engines, we completely reprogrammed the site as a multilingual portal. At that time using our in-house CMS system.
In PHP circles our site has become really well known. Cool partnerships with US sites and new friends from all over the world could be won. With some of them there is still a lively exchange and friendship.
In the meantime, the number of users of the PHP forum has increased significantly. Every day many questions about PHP, mySQL or other development topics were asked from user to user. Our moderator team has grown into a real big group of PHP professionals during these years
New logo, everything new, everything better
New times with new possibilities
After a long time we have adapted PHP-Resource to the current new technologies both visually and technically. In line with this, we have also redesigned our logo. At that time as a competition among our users. The prize was a PHP reference book from Data Becker.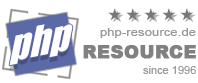 Our CMS has also changed. The user area has been overhauled and given more options.
Why has the update been so long in coming? Well, often planned and often postponed. As a developer you just have to set priorities ;)
From 2010 to 2022, we have only made optimizations. The design has not changed fundamentally anymore.
PHP-resource grows up and adapts to the market
Not only in Germany, but all over the world, countless companies have emerged in recent decades that make their main business with the Internet. These include IT system houses, marketing and design agencies, freelancers, Internet service providers as well as software manufacturers and web hosters.
With our new offer, we would like to give all these companies and people the opportunity to introduce themselves on our site in order to gain new partners and customers. Whether offshore, nearshore or at the developer around the corner.
So in the thicket of the internet it becomes more and more difficult to find the right partner for your project. It doesn't matter whether it's about creating a small WordPress company website or a large online store.
We would like to remedy this situation and offer our partners the opportunity to present their company, service or product.
Join us! Become part of PHP-resource and benefit from the opportunities
Sign up now and share your knowledge with thousands of other web developers from all over the world. As a company you can present your products, services or your company.
We are php-resource
The people behind php-resource.de